San Francisco Small Business Week Honorees & More
May 16, 2018

Congratulations to Our 2018 Small Business Honorees!
Every year during San Francisco Small Business Week, the Mayor's Office and the Board of Supervisors, the U.S. Small Business Administration and the San Francisco Economic Development Alliance come together to award and recognize small businesses who inspire others or exemplify excellence in their community. We would like to take a moment to congratulate all of those businesses. We hope you'll join us this week in honoring them as well as celebrating the numerous accomplishments and efforts of the thousands of other small businesses who continue to shape our communities and keep San Francisco a unique, thriving city!

Mayor Mark Farrell's 2018 Small Business Week Honorees
Auntie April's
Cassava
August Hall
Tonic Nightlife Group
Boba Guys
Gallardos Mexican Restaurant
Submarine Center
Polish Nail and Beauty Salon
Board of Supervisors 2018 Small Business Week Honorees
District 1 Supervisor Fewer: Standard Plumbing Ace Hardware, Jordan Cheng
District 2 Supervisor Stefani: Jest Jewels, Eleanor Carpenter
District 3 Supervisor Peskin: New Asia Chinese Restaurant, Hon So
District 4 Supervisor Tang: Other Avenues, Shanta Nimbark Sacharoff
District 5 Supervisor Breed: Love on Haight, Sunshine Power
District 6 Supervisor Kim: Ted's Market, Theodore Zouzounis
District 7 Supervisor Yee: Montessori Children's Center, Judith Flynn
District 8 Supervisor Sheehy: Cheese Boutique, Rick & Nada Malaouf
District 9 Supervisor Ronen: Casa Bonampak, Nancy Charraga
District 10 Supervisor Cohen: The Jazz Room, Bernadette Smith
District 11 Supervisor Safai: Little Joe's Pizzeria, Alfredo (Fred) Rodriguez

U.S. Small Business Administration
2018 Northern California Small Business Person of the Year
U.S. Small Business Administration
2018 Northern California Family-Owned Small Business of the Year
Tommaso's Italian Restaurant, Carmen Serafina Crotti
San Francisco Economic Development Alliance
2018 Microenterprise of the Year
D'Maize Restaurant and Catering, Luis Estrada and Zenaida Merlin

*Connect with us online! @sfsmallbusiness #SFSBW2018*

Follow us on Facebook and Twitter for updates, announcements and interviews with small business resources. Visit our website to learn more about the history of the week and to sign up for events once registration opens.
-----
Thank you to Bank of America for joining us as the Presenting Sponsor and Comcast Business for joining us as the InspireSF Host.

We'd also like to thank the following organizations for their sponsorships and donations that help make SF Small Business Week possible: American Express, Bar Association of SF Lawyer Referral & Information Service, Bay Area Development Company, Bi-Rite Family of Businesses, Capital Access Group, City View at Metreon, CleanPowerSF, Golden State Warriors, Google, HSBC, Office of Small Business, Pacific Gas & Electric Company, Potluck Consulting, Recology, SF Business Times, SAP, SFMTA, Sterling Bank & Trust, Straus Events, TMC Financing and U.S. Bank.

Special thanks to the 2018 SF Small Business Week Committee: Golden Gate Business Association, Golden Gate Restaurant Association, Main Street Launch, Mission Economic Development Agency, National Association of Women Business Owners, Office of Small Business, Pacific Community Ventures, Renaissance Entrepreneurship Center, SF African American Chamber of Commerce, SF Chamber of Commerce, SF Council of District Merchants Associations, Small Business Commission, Small Business Development Center, SF Economic Development Alliance, USF Gellert Family Business Resource Center and U.S. Small Business Administration.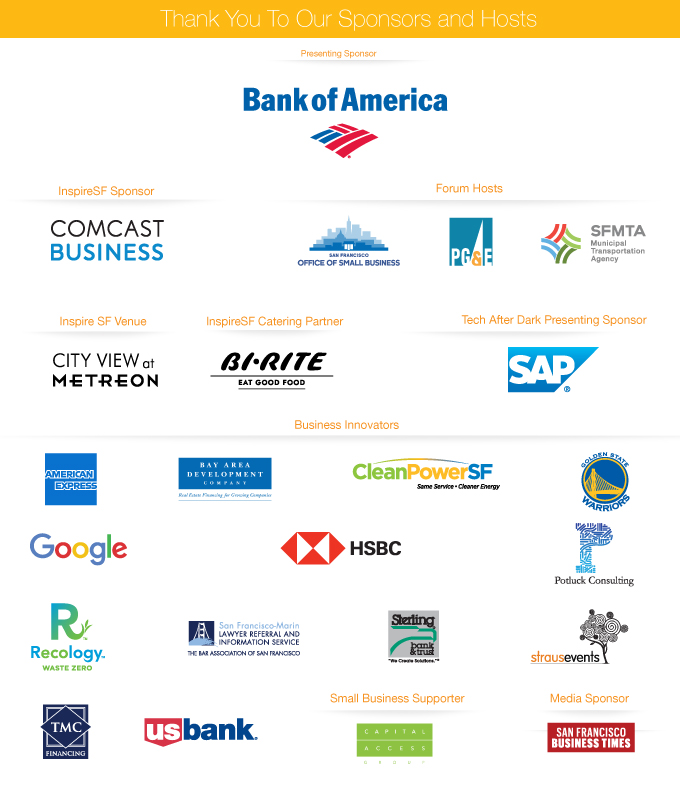 ---
San Francisco Small Business Week
901 Mission Street
Suite 105
San Francisco, California 941103
US

Read the VerticalResponse marketing policy.
---
Wright Enterprises Community Spotlight highlights the politics of San Francisco's yet to be decided Mayoral Race, The San Francisco Black Film Festival XX with friends such as The Commonwealth Club and Sony Pictures Classics, and other community news. Get the details!
After days of back and forth she leads he leads, gracious statesman, Mark Leno concedes that his campaign would not have the steam to overcome London Breeds lead with the remaining ballots. San Francisco has its first Black Female Mayor, a historic moment in time after Breed stood in after the untimely death of Mayor Edwin Lee in December 2017. In a matter of weeks, backroom deals at City Hall stripped Breed of serving as Interim Mayor for the few months leading up to the June election. In spite of what some felt was an unjust setback twice voted Board of Supervisor President, London Breed took back the crown jewel of the City's highest office. Congratulations Madame Mayor!
Facts at a glance gives an overview of the entertainment and enlightenment of the San Francisco Black Film Festival celebrating a year-long anniversary that kicks off with the festival over Father's Day Weekend. Get the Details.
Back To Archives