UNREDACTED MUELLER REPORT: RECLAIMING OUR DEMOCRATIC VALUES IN GOVERNMENT
May 23, 2019
Posted Courtesy of Wright Enterprises Community Spotlight~~~
RECLAIMING OUR DEMOCRATIC VALUES IN GOVERNMENT
Our nation is in serious trouble.
The attorney general tried to mislead us, the American people, about Special Counsel Robert Mueller's Report. The Report must be made available unredacted to us, the American people.
The president and administration flagrantly disregard, stonewall, and mock the investigations, subpoenas, and oversight work of Congressional committees.
The president walked out of a meeting at the White House with Speaker Nancy Pelosi, Senator Chuck Schumer, and others, scheduled to discuss our country's infrastructure, and declared that he won't work on all legislative matters with our elected officials until Congressional investigations stop.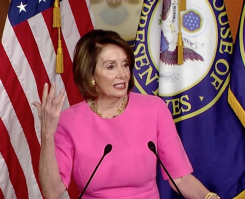 Pelosi Says She Prays for Trump "Master of Distraction" During 5-23-19 Capitol Hill News Conference
Speaker Pelosi has stated that she thinks the president is engaged in a "cover up." Does Speaker Pelosi's warning to the American people call for Congress to deliberate on initiating inquiries into impeachment?l
Our country is at a critical juncture.
We are witnessing more than just political chess games at the expense of the American people in the nation's capital. Our belief in a democratic system of three equal branches of government is being severely tested and at stake.
Only We The People, we the American people, can and must address and resolve this constitutional crisis.
How we address and resolve it is in our hands.
Copyright By ANH LĘ, May 23, 2019
From: Dr. Mike LeNoir, abthealth@gmail.com The CDC recommended that everyone, starting from six months old, should get the new FDA-approved COVID-19 vaccine. This new COVID-19 vaccine was designed to protect against the COVID-19 variants that are currently making people sick. Check out the latest on new COVID-19 vaccine and more health news.
Wednesday, San Francisco Mayor London L. Breed and interim Public Works Director Carla Short announced that San Francisco has been awarded $12 million in federal grant funding to plant and maintain trees, combat extreme heat and climate change.
Posted Courtesy of Wright Enterprises Community Spotlight San Francisco ~ Dallas ~~~ On Friday, September 29th at 7pm at Oakland Paramount Theatre, Oakland Ballet Company and Life in Motion Productions presents the Oakland Premiere of Flower, a short film starring and produced by international ballet trailblazer Misty Copeland. One of the pinnacles of the event is the live performance featuring Our Very Own Oakland Bay Area American Ballerina Angela Watson (appears courtesy of San Francisco Ballet Tamara Rojo Artistic Director), the newest member of the corps de ballet at SFB and the new future of ballet who is expected to ascend into the pantheon of principal dancers at SFB.
Back To Archives