UNREDACTED MUELLER REPORT: RECLAIMING OUR DEMOCRATIC VALUES IN GOVERNMENT
May 23, 2019
Posted Courtesy of Wright Enterprises Community Spotlight~~~
RECLAIMING OUR DEMOCRATIC VALUES IN GOVERNMENT
Our nation is in serious trouble.
The attorney general tried to mislead us, the American people, about Special Counsel Robert Mueller's Report. The Report must be made available unredacted to us, the American people.
The president and administration flagrantly disregard, stonewall, and mock the investigations, subpoenas, and oversight work of Congressional committees.
The president walked out of a meeting at the White House with Speaker Nancy Pelosi, Senator Chuck Schumer, and others, scheduled to discuss our country's infrastructure, and declared that he won't work on all legislative matters with our elected officials until Congressional investigations stop.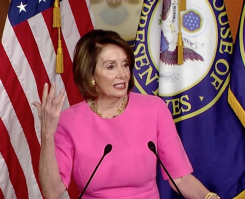 Pelosi Says She Prays for Trump "Master of Distraction" During 5-23-19 Capitol Hill News Conference
Speaker Pelosi has stated that she thinks the president is engaged in a "cover up." Does Speaker Pelosi's warning to the American people call for Congress to deliberate on initiating inquiries into impeachment?l
Our country is at a critical juncture.
We are witnessing more than just political chess games at the expense of the American people in the nation's capital. Our belief in a democratic system of three equal branches of government is being severely tested and at stake.
Only We The People, we the American people, can and must address and resolve this constitutional crisis.
How we address and resolve it is in our hands.
Copyright By ANH LĘ, May 23, 2019
Mayor London N. Breed and Supervisor Rafael Mandelman Tuesday announced that the City is in advanced negotiations to purchase the existing building and parcel at 1939 Market Street to convert it to new affordable housing. The project will provide 100% permanently affordable housing and will likely serve low-income seniors in the area. The property is located at the intersection of Duboce Avenue and Market Street.
Chip Walter – Author of "Immortality, Inc: Renegade Science, Silicon Valley Billions, and the Quest to Live Forever;" Robert Hariri – Co Founder, Human Longevity, Inc.; Cynthia Kenyon – Vice President of Aging Research, Calico and Professor Emeritus of Biochemistry and Biophysics, UCSF; Aubrey de Grey – Chief Science Officer, SENS Research Foundation and Vice President of New Technology Discovery, AgeX Therapeutics Inc. are speakers at the Commonwealth Club Silicon Valley in Palo, Alto, January 30, 2020. Can we live forever? A group of renowned scientists and journalists will reveal the groundbreaking research and visionaries who are trying to answer that very question. They will discuss rejuvenation, stem cell research, and the findings of others who are redefining our understanding of life, aging, and mortality.
Back To Archives