UNREDACTED MUELLER REPORT: RECLAIMING OUR DEMOCRATIC VALUES IN GOVERNMENT
May 23, 2019
Posted Courtesy of Wright Enterprises Community Spotlight~~~
RECLAIMING OUR DEMOCRATIC VALUES IN GOVERNMENT
Our nation is in serious trouble.
The attorney general tried to mislead us, the American people, about Special Counsel Robert Mueller's Report. The Report must be made available unredacted to us, the American people.
The president and administration flagrantly disregard, stonewall, and mock the investigations, subpoenas, and oversight work of Congressional committees.
The president walked out of a meeting at the White House with Speaker Nancy Pelosi, Senator Chuck Schumer, and others, scheduled to discuss our country's infrastructure, and declared that he won't work on all legislative matters with our elected officials until Congressional investigations stop.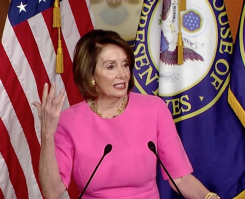 Pelosi Says She Prays for Trump "Master of Distraction" During 5-23-19 Capitol Hill News Conference
Speaker Pelosi has stated that she thinks the president is engaged in a "cover up." Does Speaker Pelosi's warning to the American people call for Congress to deliberate on initiating inquiries into impeachment?l
Our country is at a critical juncture.
We are witnessing more than just political chess games at the expense of the American people in the nation's capital. Our belief in a democratic system of three equal branches of government is being severely tested and at stake.
Only We The People, we the American people, can and must address and resolve this constitutional crisis.
How we address and resolve it is in our hands.
Copyright By ANH LĘ, May 23, 2019
Please consider being a witness to this historic event: International Tribunal 2021 We Charge Genocide! Much, if not all, of the work that we and our organizations are doing is addressed in the six charges being presented – recognition from the international jurors will only help our work moving forward regardless of the outcome.
Mayor London N. Breed and Supervisor Rafael Mandelman have initiated steps to work with the Sheriff and the Adult Probation Department to reform San Francisco's electronic monitoring program. This public safety tool needs reforms to achieve its original deterrence function, while also serving as an alternative to incarceration.
Mayor London N. Breed today commemorated 25 years of organics recovery in what has been hailed as the most successful, comprehensive, and innovative composting program in the country. Since 1996, residents and businesses have recovered organic material, primarily food scraps, away from landfills and applied to local farmland, vineyards, and ranches. Today, the City collects more than 500 tons per day from the green bin.
Back To Archives