UNREDACTED MUELLER REPORT: RECLAIMING OUR DEMOCRATIC VALUES IN GOVERNMENT
May 23, 2019
Posted Courtesy of Wright Enterprises Community Spotlight~~~
RECLAIMING OUR DEMOCRATIC VALUES IN GOVERNMENT
Our nation is in serious trouble.
The attorney general tried to mislead us, the American people, about Special Counsel Robert Mueller's Report. The Report must be made available unredacted to us, the American people.
The president and administration flagrantly disregard, stonewall, and mock the investigations, subpoenas, and oversight work of Congressional committees.
The president walked out of a meeting at the White House with Speaker Nancy Pelosi, Senator Chuck Schumer, and others, scheduled to discuss our country's infrastructure, and declared that he won't work on all legislative matters with our elected officials until Congressional investigations stop.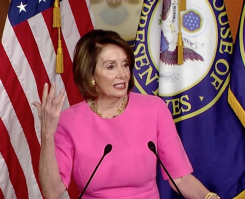 Pelosi Says She Prays for Trump "Master of Distraction" During 5-23-19 Capitol Hill News Conference
Speaker Pelosi has stated that she thinks the president is engaged in a "cover up." Does Speaker Pelosi's warning to the American people call for Congress to deliberate on initiating inquiries into impeachment?l
Our country is at a critical juncture.
We are witnessing more than just political chess games at the expense of the American people in the nation's capital. Our belief in a democratic system of three equal branches of government is being severely tested and at stake.
Only We The People, we the American people, can and must address and resolve this constitutional crisis.
How we address and resolve it is in our hands.
Copyright By ANH LĘ, May 23, 2019
The American Medical Association (AMA) today joined the African American Tobacco Control Leadership Council (AATCLC) and Action on Smoking and Health (ASH) as co-plaintiffs in a lawsuit against the Food and Drug Administration (FDA). The parties are represented by Pollock Cohen, LLP.
The AATCLC is seeking a highly organized self-starter to assist in the implementation of an exciting new statewide project. "Finishing The Fight" is an innovative project that will educate, engage, and empower African American/African Immigrant communities to fight back against the predatory tobacco industry. The project will provide technical assistance on policy initiatives that restrict the sale of mentholated and unregulated flavored tobacco products.
Live Talk @SFBFF honors local San Francisco Filmmaker and Director of the San Francisco Black Film Festival and Actor and Humanitarian Chadwick Boseman, who died
Back To Archives