University of San Francisco to Honor San Francisco Artist & Activist Eugene White Posthumously
August 22, 2019
Save the Date for Community Celebration on September 12, 2019. News provided to Wright Enterprises Community Spotight by Community Activist Lynnette White, widow of the artist.
"Changemakers" Book Launch & Mural Celebration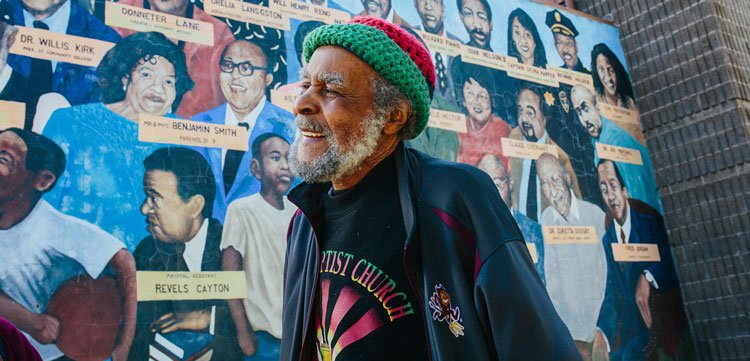 "Changemakers" Book Launch & Mural Celebration
4 p.m. | Thursday, Sept. 12
Ella Hill Hutch Community Center, 1050 McAllister Street, San Francisco, CA 94115
The citywide celebration and book launch of Changemakers: African American Leaders in San Francisco Who Made a Difference, an illustrated book of 95 biographies of civic leaders depicted on the exterior murals of the Ella Hill Hutch Community Center — will commemorate the 20th anniversary of the original murals commissioned in 1999 by activist Leonard "Lefty" Gordon and former President of SF Board of Supervisors Wendy Nelder and funded by Mayor Brown's Neighborhood Beautification Fund.
For More Information Contact:
Alicia Marshall
Program Assistant, Engage San Francisco Initiative
Program Assistant, Urban and Public Affairs Graduate Program
Leo T. McCarthy Center For Public Service and the Common Good
New business venture will develop trade between Black female South African Vintners And African American female investors. San Diego, California based female investors answer the call of Africa to create trade between Black companies in South Africa and Black companies in the United States.
"March is Women's History Month" and The San Francisco Chapter of the National Coalition of 100 Black Women, among more than 60 affiliates nationwide, commemorates the month with its "Fifteenth Annual Golden Girls Hats and Gloves 'Bridging the Generations' Tea": 'Bridging the Generations' March 14, 2019. The annual fundraiser benefits the organization's role in advocacy, health, education and economic empowerment via programs such as the Doris Ward Workforce Development Program and "Sister-Nomic$."
San Francisco's Anh Lê gives his perspective that the United States Senate gave a deaf ear to the American public.
Back To Archives