University of San Francisco to Honor San Francisco Artist & Activist Eugene White Posthumously
August 22, 2019
Save the Date for Community Celebration on September 12, 2019. News provided to Wright Enterprises Community Spotight by Community Activist Lynnette White, widow of the artist.
"Changemakers" Book Launch & Mural Celebration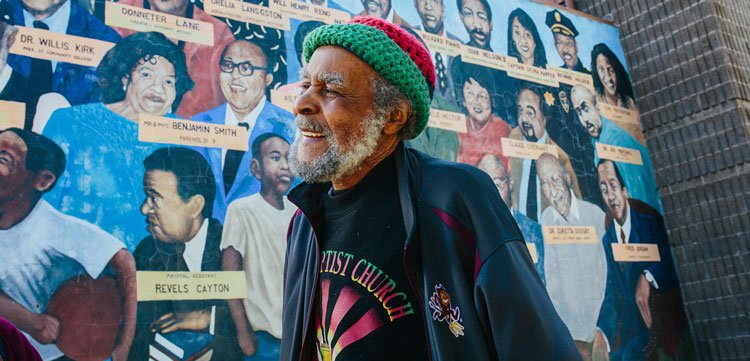 "Changemakers" Book Launch & Mural Celebration
4 p.m. | Thursday, Sept. 12
Ella Hill Hutch Community Center, 1050 McAllister Street, San Francisco, CA 94115
The citywide celebration and book launch of Changemakers: African American Leaders in San Francisco Who Made a Difference, an illustrated book of 95 biographies of civic leaders depicted on the exterior murals of the Ella Hill Hutch Community Center — will commemorate the 20th anniversary of the original murals commissioned in 1999 by activist Leonard "Lefty" Gordon and former President of SF Board of Supervisors Wendy Nelder and funded by Mayor Brown's Neighborhood Beautification Fund.
For More Information Contact:
Alicia Marshall
Program Assistant, Engage San Francisco Initiative
Program Assistant, Urban and Public Affairs Graduate Program
Leo T. McCarthy Center For Public Service and the Common Good
Oakland International Film Festival on KTVU, KMEL, KBLX, KPFA, KQED; A Day of Action in San Francisco; San Francisco Bay Area Theatre Company; and more community news.
Wright Enterprises Community Spotlight talks sports, arts, leisure, finances and community. See the details and don't forget to sign up for the eNewsletter!
"There is not another nation that has mass shootings, massacres, and acts of domestic terrorism which the United States has. The person arrested in the massacre in El Paso told police that he wanted to kill Hispanics. The manifesto he posted on social media blamed Hispanics and immigrants for "displacing Whites," an extremely dangerous narrative of White supremacist ideology. The killings of 22 people in El Paso are not just murders of our fellow Americans, but acts of domestic terrorism," says San Francisco Independent Journalist, ANH LÊ.
Back To Archives