San Francisco NCBW's Golden Girls Hats & Gloves Tea Postponed Due to SF Mayor London Breeds New Directive
March 13, 2020
Posted Courtesy of Wright Enterprises Community Spotlight~~~
Posted at prlog.org:
https://www.prlog.org/12813460-san-francisco-ncbws-golden-girls-hats-gloves-tea-postponed-due-to-mayor-london-breeds-directive.html
POSTPONED-The National Coalition of 100 Black Women San Francisco Chapter's Multicultural Fifteenth Annual "Golden Girls Hats and Gloves 'Bridging the Generations' Tea" at The Fairmont Hotel Was POSTPONED This Afternoon Due to San Francisco Mayor's Directive Amid Coronavirus Concerns
Mayor London Breed gave a directive reaching the leadership of San Francisco National Coalition of 100 Black Women between 5:30 and 6:00 p.m. as they were setting up Friday. The Mayor is limiting public gatherings to 100 people.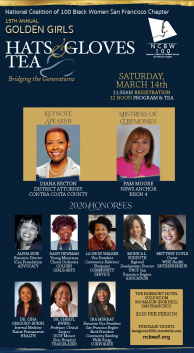 San Francisco- In the wake of President Donald J. Trump's declaration of a national emergency and a newly released directive concerning the Coronavirus Pandemic from San Francisco Mayor London Breed, The National Coalition of 100 Black Women San Francisco Chapter's multicultural 15th annual "Golden Girls 'Bridging the Generations' Hats and Gloves Tea slated for the historic Fairmont Hotel has been postponed. The Mayor's directive released Friday limits public gatherings to 100 people.
"We were setting up for the event that has been held at the Fairmont since 2005 when hotel officials informed us that the Mayor's Office had changed the parameters around public gatherings and we could no longer host the event, said Dr. Maxine Hickman, President of San Francisco NCBW and National Board Member of NCBW"
Earlier in the week, SF NCBW sent out a notice confirming the annual fundraiser would go on as scheduled and shared that it had sought out the Fairmont Hotel leadership for confirmation of its procedures to follow all health guidelines in accordance with the CDC.
This week the changing limit of public gatherings went from 1000 to 250 and is now 100 people as of the afternoon of March 13, 2020. "Given the gravity of concerns and with a great deal of caution in mind we are taking quick action to be in alignment with the Mayor's new directive, said Dr. Hickman. "We are in the process of letting our members and guests know that our March 14, 2020 fundraiser has been postponed, said Dr. Hickman."
With one of the key initiatives of the National Coalition of 100 Black Women being "health," the chapter includes in this news release the information from the CDC it had provided earlier this week to its expected over 200 guests:
"We are also asking our members and tea guests to be aware of steps they should take as well." Precautions include to:
· Stay home if sick
· Avoid close contact with people who are sick
· Avoid touching eyes, nose and mouth
· Cover coughs or sneeze with a tissue, then throw the tissue in the trash
· Clean and disinfect touched objects and surfaces using a regular household cleaning spray or wipe
· Wash hands often with soap and water for at least 20 seconds.
· If soap and water are unavailable, use an alcohol-based hand sanitizer with at least 60% alcohol. SFNCBW will provide hand sanitizer for each table.
More information from the CDC for organizations hosting large events can be found at: (Interim Guidance: Get Your Mass Gatherings or Large Community or Large Community Events Ready for Coronavirus Disease 2019 (COVID-19):
https://www.cdc.gov/coronavirus/2019-ncov/community/large-events/mass-gatherings-ready-for-covid-19.html?CDC_AA_refVal=https%3A%2F%2Fwww.cdc.gov%2Fcoronavirus%2F2019-ncov%2Fcommunity%2Fmass-gatherings-ready-for-covid-19.html
Held annually in March "Women's History Month," The SFNCBW "Golden Girls 'Bridging the Generations' Hats and Gloves Tea" is an inspirational time to celebrate unsung heroes. The event assists the chapter in its funding for programs. It is expected that the event may occur later in the year.
Health, Education, Economic Empowerment and Public Policy are the strategic pillars of the organization's work. The Partnership with Sutter Health California Pacific Medical Center to bring prevention and relief to low-income women facing breast cancer; The enrollment of economically-challenged families in the California Affordable Care Act; The Doris Ward Workforce Development Program, named after the first Black President of the San Francisco Board of Supervisors; Partnership with the League of Women Voters for voter registration and awareness workshops; Lobbying local, state and national politicians and participating in State and National Legislative Days and other programs, all make for a stronger and greater community. Those interested in supporting the on-going work of the San Francisco Chapter of the National Coalition of 100 Black Women, Inc. can do so my donating at www.ncbwsf.org.
In the midst of the Coronavirus medical response, San Francisco NCBW, once again advises following CDC protocol and to stay abreast of the latest information in the news and on the CDC website.
The National Coalition of 100 Black Women San Francisco Chapter is an advocacy group dedicated to the empowerment, education and training of women of color for the total advancement of society. Visit www.ncbwsf.org for more information.