Jackie Wright of Wright Enterprises-"There's a Humanitarian Solution to Foreclosures"
December 1, 2012
Dear Friends,

Take a moment to look at the comments I made to Assemblyman Tom Ammiano in the video posted below about coming up with a humanitarian solution to foreclosures.





Part VII of Occupy Bernal Forum on the Fight for Affordable Housing in Bernal Heights on November 29, 2012, in San Francisco, with Foreclosure and Eviction Fighter Ross Rhodes, ACCE organizer Grace Martinez, Buck Bagot of Occupy Bernal, Amy Beinert of the Bernal Heights Neighborhood Center, California Assemblymember Tom Ammiano, San Francisco Supervisor John Avalos, and more (VID00007.MOV)





| | | |
| --- | --- | --- |
| | ©2012 YouTube, LLC 901 Cherry Ave, San Bruno, CA 94066 | |

Visit http://occupytheauctions.org to find a letter you can copy and paste to email the Wells Fargo Executives that are listed. Take a moment to call their offices as well. Help with the Campaign:
Wells Fargo Stop the Holiday Foreclosures and Evictions of the "Wells 26″
Please pass on this information on to your friends and colleagues.

For additional background read, New York Times Editorial "More Questions on Mortgage Relief."

http://www.nytimes.com/2012/11/23/opinion/more-questions-on-mortgage-relief.html?_r=0


I ask that you Post this link on your Facebook and tweet: http://www.wrightnow.biz/articles_view.asp?columnid=2898&articleid=77786

I have attached a copy of the concept of pairing social services programs with foreclosed homeowners to help generate funds to repay the banks and an article that the late esteemed journalist Chauncey Bailey wrote about me as Public Affairs Manager at CBS5/CW Bay Area that included the concept (I joined the TV Station in February 2004 and the article was written in June 2004). I had no idea of the impending mortgage crisis a few short years later. It's an idea that is past due in implementation.

Thanks for helping.

Thanks to Occupy Bernal and ACCE and all the front line people who are saying "No, to the Banks. We can do better than this."

Sincerely,

Jackie
415 525 0410
"Kinsman Redeemer"--Humanitarian Response to Foreclosures
Kinsman Redeemer
"Saving Homes and Saving Lives"
FAST FACTS
Mission:
The mission of Kinsman Redeemer is to save homes and save lives through public-private partnership opportunities by assisting homeowners in financial need by pairing them with those in need of homes such as foster care youth, elderly, veterans and the re-entry population.
Kinsman Redeemer Foundation will be established to get homes out of foreclosure and keep the families in those homes by providing social services programs with emancipated youth, foster care youth, the elderly, veterans and the re-entry population. Homeowners will be carefully matched with the appropriate people through on-going case management.
Partners will include non-profits that we have begun to engage, churches, and businesses interested in increasing their social responsibility capital.
Political power of county and city governments will be engaged to help make a difference.
Bank Foundations will be asked to participate in the program as we begin with the inventory of their consumers that are in foreclosure.
Objective:
The goal is to match homeowners, especially those emerging out of the low income bracket who are in danger of being forced back into the poverty, with social service programs that can meet the need of paying part or all of their mortgage. A family may have a room, two rooms or more to rent to emancipated youth or they may rent their entire house out for a season of time for an entire program so that they can stabilize their home while they rent elsewhere.
Why Kinsman Redeemer?
The concept is based on the biblical principle in the Book of Ruth that shows how families should assist each other. Numerous studies have indicated that it is more economical to prevent an individual or family from spiraling down economically than trying to assist them once they fall through the cracks. Helping families helps prevent the children of the family from becoming another generation of the economically poor.
Contact Information:
Jackie Wright, Wright Enterprises, www.wrightnow.biz, jackiewright@wrightnow.biz,
415 525 0410.
Phyllis Wright Cameron, Cameron-Wright Realty, Phyllis. Cameron@sbcglobal.net,
510 326 1982.
Kinsman Redeemer Concept-Matching Social Services Program with Foreclosed Homeowners to
help pay Banks is mentioned in second column under Q: Long-term goals or plans in the article written by the late Chauncey Bailey.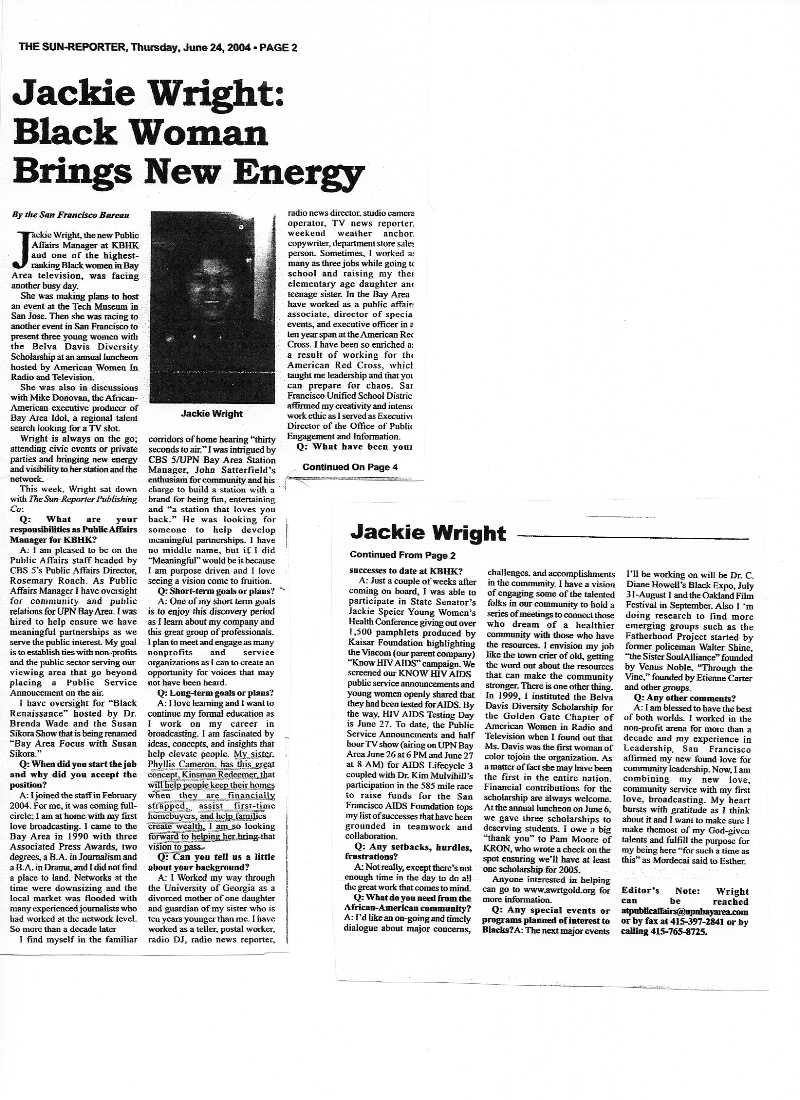 Kinsman Redeemer Concept-Matching Social Services Program with Foreclosed Homeowners to
help pay Banks is mentioned in second column under Q: Long-term goals or plans.