http://www.sfbff.org
"The Cornerstone of Wright Enterprises is Community Service.
A strong community yields a good environment for business and pleasure.
Community well-being and productivity go hand in hand."
"COMMUNITY SERVICE IS THE CORNERSTONE OF GOOD BUSINESS!"
With all due respect to President Barack Obama, "Yes, W.E. Can!"
has been a trademark of Wright Enterprises since 1997,long before the 2008 election.
San Francisco Black Film Festival, June 12-15
Find out about partners
The California Music Industry Summit, June 13-15
The Maison Revolution-Your Portal to Paris and All Things French! "Oui"
Flipsyde's "The Piper's" 3 Strikes Against Human-Trafficking and Violence
Your ticket to what's going on starts here
See
Life Of A King Official Trailer #1 (2014) - Cuba Gooding Jr., Dennis Haysbert Movie HD

and
Festival au Desert - The Last Song Before the War Trailer
and
"Double Victory" Tuskegee Airmen Documentarian, Joe De Francesco, Directs Live Play Production Plus Directs & Edits Film "John Brown's Body at San Quentin
And There's more! Visit www.sfbff.org
Your ticket to what's going on starts here
Cop and Robbers Bundle EPK
Flipsyde's "The Piper" Morphs "Cops and Robbers" One Man Show into
An Audio Experience,
CD and Book, Now Playing at iTunes, Amazon,
and On the Internet Near You
"Piper and Dawn have truly flipped the script for good with this artistic work that will surely bring healing to our communities across the nation, and for that matter the world, for those who choose to listen," said Larry Batiste , Grammy Award Nominating Singer/ Producer and Musical Director for the Pre-Grammy Show for more than a decade. "It's amazing to see how Piper's talent has evolved since a chance meeting at my studio that resulted in "Flipsyde" (https://www.youtube.com/watch?v=4LH4m5R3iB4) being born. (Read Entire Article:http://www.prlog.org/12325353).
Democratic Leader Nancy Pelosi Speaks with Media
at SF Chapter of the National Coalition of 100 Black Women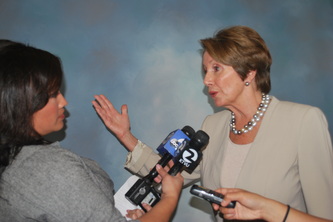 Media Relations by Wright Enterprises
Danny Glover speaks with Nick Smith, Janelle Wang on ABC 7's View From the Bay
(photo by Jackie Wright 1-14-10)
"I am a Haitian at Heart," said Glover quoting

Frederick Douglass

. Click this link or the image to see the interview. "Soundtrack for A Revolution Oscar Nomination Hopeful Celebration" a benefit for the NAACP organized with two weeks lead time presented by LaHitz Media and Wright Enterprises at Third Baptist Church in San Francisco, was redirected to also assist Haitian relief efforts.
Glover all so spoke with ABC 7's Reporter, Don Sanchez.

Clink this link to see the news report.

Speaking of the Obama Administration: "Let me go out on a limb and say this administration will be defined by how it treats

Haiti

," Danny Glover.
(Click Here for Media Advisory)


Anthony Hamilton and The Blind Boys of Alabama
(Click Image for Trailer of "Soundtrack for a Revolution")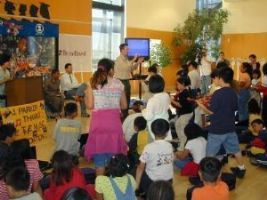 AT&T Gives Back to San Francisco Schools.