"The Cornerstone of Wright Enterprises is Community Service.
A strong community yields a good environment for business and pleasure.
Community well-being and productivity go hand in hand."
"COMMUNITY SERVICE IS THE CORNERSTONE OF GOOD BUSINESS!"
With all due respect to President Barack Obama, "Yes, W.E. Can!"
has been a trademark of Wright Enterprises since 1997,long before the 2008 election.
Two Years before Ferguson, Mo hit the headlines, Bay Area Law Enforcement Officer and Artist, Jinho "The Piper" Ferreira of Flipsyde wrote "Cops and Robbers," a 17-character one man show that seems to dramatically mirror the spin of Ferguson.
"Cops and Robbers" written and performed by Jinho "The Piper" Ferreira gives an unvarnished look at violence in America, yet it calls for hope through personal responsibility and action, as seen in his Single "Believe."
Democratic Leader Nancy Pelosi Speaks with Media
at SF Chapter of the National Coalition of 100 Black Women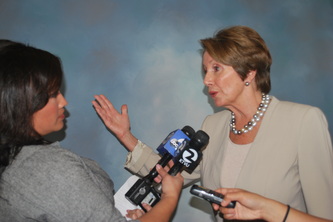 Media Relations by Wright Enterprises
Danny Glover speaks with Nick Smith, Janelle Wang on ABC 7's View From the Bay
(photo by Jackie Wright 1-14-10)
"I am a Haitian at Heart," said Glover quoting

Frederick Douglass

. Click this link or the image to see the interview. "Soundtrack for A Revolution Oscar Nomination Hopeful Celebration" a benefit for the NAACP organized with two weeks lead time presented by LaHitz Media and Wright Enterprises at Third Baptist Church in San Francisco, was redirected to also assist Haitian relief efforts.
Glover all so spoke with ABC 7's Reporter, Don Sanchez.

Clink this link to see the news report.

Speaking of the Obama Administration: "Let me go out on a limb and say this administration will be defined by how it treats

Haiti

," Danny Glover.
(Click Here for Media Advisory)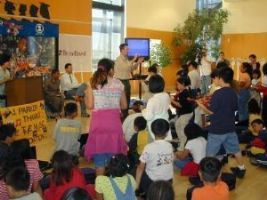 AT&T Gives Back to San Francisco Schools.